Laat mij weten wanneer weer op voorraad is!
Laat je e-mailadres achter en we sturen je een mailtje wanneer dit product weer op voorraad is.
Add your review
Review Cobra Air-X Irons 5-SW 2022 (graphite shaft)

For the 2022 season, Cobra is taking your game to the next level with these Cobra X-Air irons. Beautifully finished, controlled feel irons with a very nice combination of forgiveness and power. Recommended for golfers with HCP 54 to 18.
Available directly from our own stock!
Golf clubs, golf sets and more
.
Returning products

(14 days to change your mind)

Customer service, e-mail:

Customer service: +31 (0)85-0602099

09:00-17:00 hrs / mon-fri

Reliable guarantees!

At least 12 months warranty
Ordered before 15:00 = shipped the same working day.
What to expect:

Free shipping

on orders over € 100,-

€ 5,95

shipping costs for orders under € 100,-
For shipping costs outside the Netherlands click here

General
For the 2022 / 2023 season, Cobra pulled out all the stops to develop a set of irons that are as playable as possible in the segment for beginning and intermediate golfers. And that has worked out very well with these Cobra Air-X irons. This version with men's graphite shafts brings all the features that golfers with HCP 54 to 18 have on their wish list. Well done... And very nice to look at also.
The technique 
These Cobra Air-X irons are the 2022 successors to the segment-renowned 3rd generation F-Max irons. Looking at the clubs themselves, you can tell from the specifications which target group they are made for: somewhat larger, 'game improving' club heads, a huge sweet spot, a lot of weight at the bottom of the club head and a thin but strong accelerating face. These are the characteristics that make these Air-X men's irons sets very suitable for beginning to intermediate golfers.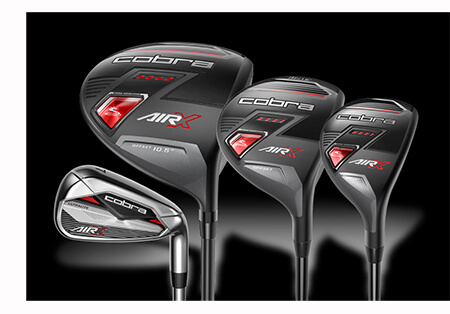 Known techniques from earlier model years are refined and improved. A large oversized head, a huge cavity back and huge sweet spot (E9 innovation) make these irons easy to use, even if the golfer doesn't have a perfect technique yet. The centre of gravity has been placed even lower in these irons than in the previous Cobra irons series, making it even easier to get the ball in the air. The irons have a slight Offset to the shaft, making it easier to hit through the ball and hit it fuller, and to avoid a slice when hitting a mishit. The flight of the ball is higher with these irons, making it more predictable. Each club has a slightly different shape, adapted to the individual tasks of each club. 
Why so light?
These Cobra irons are lighter than their predecessors. The idea behind this is that lighter clubs simply allow you to achieve more club speed without having to deliberately hit harder. This means that even if your swing speed is a little slower, you can hit further and still have more control, which is very nice. 
Irons with graphite or steel shafts?
These Air-X Cobra irons are available with graphite shafts or with steel shafts. Do you prefer the lightest clubs possible and don't like the heavy vibration on your hands when you don't hit the ball perfectly? Irons with graphite shafts are then perhaps more suitable for you than those with steel shafts. Do you hit harder and/or do you prefer heavier, more feedback-oriented clubs? Then irons with steel shafts might be more suitable. A matter of preference, then...
Standard version
As standard, these super-lightweight graphite-shaft clubs are fitted with lightweight 55-gram Cobra UltraLite-50 graphite shafts and Lamkin R.E.L. Men's Standard 58R Grips. 
Fitting options: Please call GolfDriver.nl customer service (Tel: 085-0602099) for personal advice or to discuss specific requirements.

| | |
| --- | --- |
| Gender | Mens |
| Number of clubs | 7 clubs: 5, 6,7,8,9,PW and SW |
| Total score | 89 |
| Technique / Innovation | 86 |
| Value for money | 92 |
| Quality standard | 90 |
| Game improving | 94 |
| Suitable for HCP | 18-54 |
| Shaft | Cobra UltraLite 50 Graphite shaft |
| Grip | Lamkin REL Standard grip |
| Head type | Cavity Pocket back |
| Colour | Silver Red |
| Other | - |
| Warranty | This product has a 2 year manufacturer's warranty |