Laat mij weten wanneer weer op voorraad is!
Laat je e-mailadres achter en we sturen je een mailtje wanneer dit product weer op voorraad is.
Add your review
Review Mizuno ST-X 230 Driver 2023 - LinQ M40X Red Shaft
In the loft-adjustable Mizuno STX-230 drivers, blue-designed Cortech Chamber technology provides more stability less spin and tremendously high ball speeds. This X version is the most forgiving version from this driver series!
Available directly from our own stock!
Golf clubs, golf sets and more
.
Returning products

(14 days to change your mind)

Customer service, e-mail:

Customer service: +31 (0)85-0602099

09:00-17:00 hrs / mon-fri

Reliable guarantees!

At least 12 months warranty
Ordered before 15:00 = shipped the same working day.
What to expect:

Free shipping

on orders over € 100,-

€ 5,95

shipping costs for orders under € 100,-
For shipping costs outside the Netherlands click here

General
Mizuno, as a somewhat smaller top manufacturer, can easily compete with the big market leaders in the golf market. In fact, developments in their clubs are moving at a killer pace and this is very noticeable in both design and performance.
This is the most forgiving driver in the series: the ST-X 230. Not only is its design striking, its performance level is also exceptionally high. This is partly because a lot of new technology has been integrated to make the clubs even better. More than ever, you will notice and feel the forgiveness, control and stability in these powerful drivers... A fine example of product development.
The technique: more focus on power, forgiveness and stability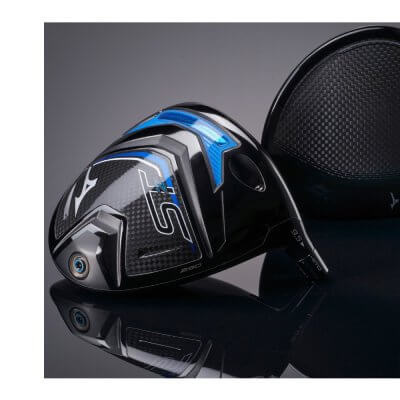 That Mizuno improves its drivers year on year by applying innovative developments is no secret anymore. Anno 2023, this successful brand is making improvements to the previously introduced Cortech Chamber Technology. This increases ball speed, stability and forgiveness and reduces spin. The resilient clubface/striker face is made of Forged SAT 2041 BETA Titanium: This material retains its properties better and is longer resistant to micro-cracks than the widely used 6-4 Titanium by many other major brands. The varying thickness of the face material creates a larger sweet spot and delivers even more ball speed over a larger surface. Both the crown (top of the head) and the sole (bottom of the head) are lightweight carbon. This gives Mizuno engineers more freedom to create the ideal balance profile that further optimises centre of gravity and MOI. In short: this forgiving ST-X 230 driver is of real interest to golfers looking for quality!
Differences between ST-X and ST-Z models
As with many golf brands, Mizuno has a neutral-setting model in its 2023 collection with the STZ-230 and a draw-setting model with this STX-230. The difference between them is small and really lies in the details but this ST-X 230 driver focuses on maximum springiness, a slightly higher, more predictable ball flight with the Draw setting making it easier to hit a draw. This does increase the ballspin slightly but many golfers want this as it significantly reduces the chance of making a mistake. Most of the weight on this ST-X 230 is therefore in the toe and at the back of the clubhead.
With the ST-Z 230 version, more demanding, advanced golfers will find a driver with less spin (advantage), a flatter ball flight (and therefore more length) and a neutral clubhead balance. Steerability is greater and both length and feedback/feel are at a slightly higher level. In short, the ST-Z is ideal for the more advanced target group of golfers (HCP 0-32) and this ST-X for golfers who are (somewhat) less technically advanced. 
Standard version
This STX-230 driver comes standard with the LinQ M40X Red graphite shaft and Lamkin Hybrid +2 standard men's grip. Do you prefer a shaft or grip other than the standard version in stock, you will pay no extra charge but there is a longer delivery time.
Fitting options: Please call the GolfDriver.nl customer service (Tel.: 0031-85-0602099) for personal advice or to discuss specific requirements.




| | |
| --- | --- |
| Gender | Mens |
| Quality standard | 94 |
| Game improving | 94 |
| Innovation level | 93 |
| Value for money | 92 |
| Total score | 93 |
| Suitable for HCP | 0-36 |
| Headcover | Original headcover included |
| Adjustable loft | Yes |
| Shaft | LinQ M40X Red graphite shaft |
| Colour | Black |
| Warranty | This product has a 2 year manufacturer's warranty |
| Other | - |