Laat mij weten wanneer weer op voorraad is!
Laat je e-mailadres achter en we sturen je een mailtje wanneer dit product weer op voorraad is.
Add your review
Review TaylorMade Stealth 2 Plus Driver 2023 - Kai'Li Red 60 Shaft
For the better golfer, there is this TaylorMade Stealth 2 Plus Driver 2023. With this top model, not only is the loft adjustable but also the balance in the club head. The Carbon Reinforced Composite Ring is also integrated for more power and stability.
Available directly from our own stock!
Golf clubs, golf sets and more
.
Returning products

(14 days to change your mind)

Customer service, e-mail:

Customer service: +31 (0)85-0602099

09:00-17:00 hrs / mon-fri

Reliable guarantees!

At least 12 months warranty
Ordered before 15:00 = shipped the same working day.
What to expect:

Free shipping

on orders over € 100,-

€ 5,95

shipping costs for orders under € 100,-
For shipping costs outside the Netherlands click here
Last season was remarkably successful for TaylorMade with the introduction of the Stealth drivers with 100% Carbon clubface/clubface. Everyone in the golf industry was talking about it. For season 2023, TaylorMade has developed a worthy successor: the Stealth 2 collection of which this is the Stealth 2 Plus driver. This Plus version driver is the widest adjustable 'Carbon-wood driver' with balance adjustability and a slightly lower ball flight for the better golfer.
The introduction of the Carbon Reinforced Composite Ring plays an important role this season as it provides even better balance which opens the door to more forgiveness and more power. The sharpened design also makes it a strikingly beautiful, high-tech driver. Distinctive technology all around ... very nice!  
Different versions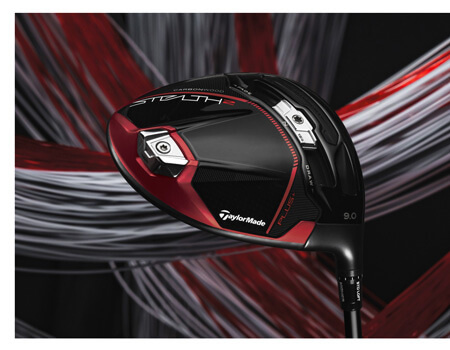 TaylorMade's 2023 series Stealth 2 drivers also differentiate between three different versions. All are equally powerful and striking but due to differences in detailing, they deliberately serve multiple target groups. As a result, a suitable Stealth 2 driver is available for every level of golfer. 
There is this 'normal' Stealth 2 version for the largest group of golfers looking for maximum forgiveness and lots of power without compromising control. Then there is the HD (= High Draw) version, which is more interesting for golfers who struggle with a stubborn slice or who want to be able to hit a Draw (a controlled flight of the ball over the right side) more easily 'on command'. Golfers with higher handicap experience with a Stealth HD 2 version some more technical help to keep the ball between the lines. Finally, for the more advanced or demanding golfer, there is this widest adjustable Stealth Plus 2 version. In addition to the loft adjustability that all Stealths have, the Plus also features the balance slider to ideally adjust the club to your needs, speed, swing, and preferences. So, as a golfer, the Plus allows you to colour in the ball flight of your drives... very handy. The ball flight is a bit lower on this last-mentioned version and therefore a bit further.
Technique
The 100% Carbon Clubface has now shown to bring added value with the new generation of TaylorMade Drivers. This widely adjustable Stealth-2 Plus+ driver features Sliding Weight Track to adjust balance in the clubface. In addition, the face is made of 60 layers of carbon, even lighter than last season's version. This face is encased in a polyurethane cover with Nanotexture Technology to optimize fine-tuning, spin and distance, regardless of playing conditions. The weight thus saved can now be used at the back of the driver where the improved weight distribution takes both club speed, explosiveness and forgiveness to a higher level. This is good news because it makes the club very attractive to both the beginning and advanced golfer. The Twist Face Technology that TaylorMade has used since the Sim Series (2020) has also been integrated and optimized so that even an "off-center hit" (ball contact next to the sweet spot) is much less likely to end in a dramatic swing-off.
New this year is the Carbon Reinforced Composite Ring integrated into the design for better balance distribution which has a positive effect on stability and forgiveness. The Inertia Generator remains the basic source for refined aerodynamic features in these drivers. The result is highly aerodynamic clubhead shape that helps generate swing speed in golfers at every level. This TaylorMade Stealth 2 Plus+ is equipped with a 15 gram back weight for tremendous MOI and forgiveness. Finally, the Thru-Slot Speed Pocket that brings more flexibility to the clubhead that maximizes ball speeds and provides additional forgiveness for balls hit (too) low on the clubface. 
Standard version
This TaylorMade Stealth 2 Plus+ driver 2023 is equipped with Mitsubishi Kai'Li Red 60 graphite shaft for a medium high ball flight which makes this club just a little easier to play than with the Hzrdus Black shaft. The grip used is a 52 gram GolfPride Z-Grip Plus2 grip.
Fitting options: Feel free to call the GolfDriver Customer Service (Tel.: +31-85-0602099) for personal advice or to discuss specific needs.


| | |
| --- | --- |
| Gender | Mens |
| Quality standard | 95 |
| Game improving | 93 |
| Innovation level | 96 |
| Value for money | 85 |
| Total score | 95 |
| Suitable for HCP | 0 - 36 |
| Headcover | Original headcover included |
| Adjustable loft | Yes |
| Shaft | Mitsubishi Kai'Li Red 60 graphite shaft |
| Colour | Black |
| Warranty | This product has 2 years manufacturer's warranty |
| Other | Wrench and head cover included |